Erin Needham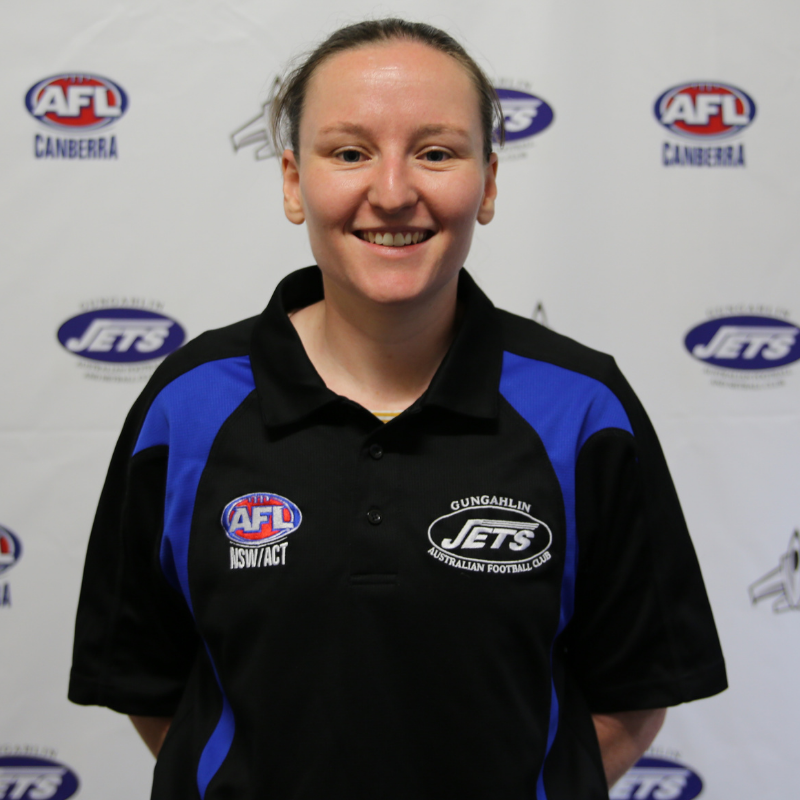 Favourite Team
Freemantle (but she really goes for footy in general)
Favourite Quote   
Work smarter not harder
A Jet in the Hangar is safe but that's not what Jets are built for
---
Erin joined the Jets in 2015 and plays her sixth season for the Jets in 2021. She chose to play AFL because she has always loves footy and wanted to play but the motivation only came when she moved to Canberra. At the time, Erin needed something to do that wasn't work and a way to meet people who weren't middle-aged, male or into gaming. As a self-proclaimed individual who isn't good at socialising or making friends, footy became a great equaliser for her as she is most comfortable with a footy in hand or a game on TV.
Erin initially played for the Jets because of the quality of football the women were producing and the success they were experiencing. Now, she plays for the Jets because of the family feel around the club and the ability to contribute to the next generation of footy players.
Erin is most looking forward to continuing the development of those who played senior women's in 2020, introducing more Rising Stars to senior footy, integrating the juniors and seniors in a more engaging way and a renewed focus on one club in the 2021 season.
Outside of AFL, Erin enjoys netball, cooking, watching the same two shows over and over again and completing her commitment to a long-term DIY guitar project. The kit guitar, which should have taken a couple of weeks to complete is now six years in and estimated to take another six years at her current pace!
---
Sponsored by Maxiplast Sports
Maxiplast Sports – supplier of High Quality Sports Medical products at a very competitive pricing. Maxiplast Sports have been supplying clubs at all levels of competition for the past 36 years – Adelaide Crows & Port Adelaide are two of the AFL clubs that use our Maxiplast Brand sportstape. Maxiplast can reduce your clubs overall spend on quality sports medical products.
Your local contact is Steve Duggan on 0412 211 485.