Erin Needham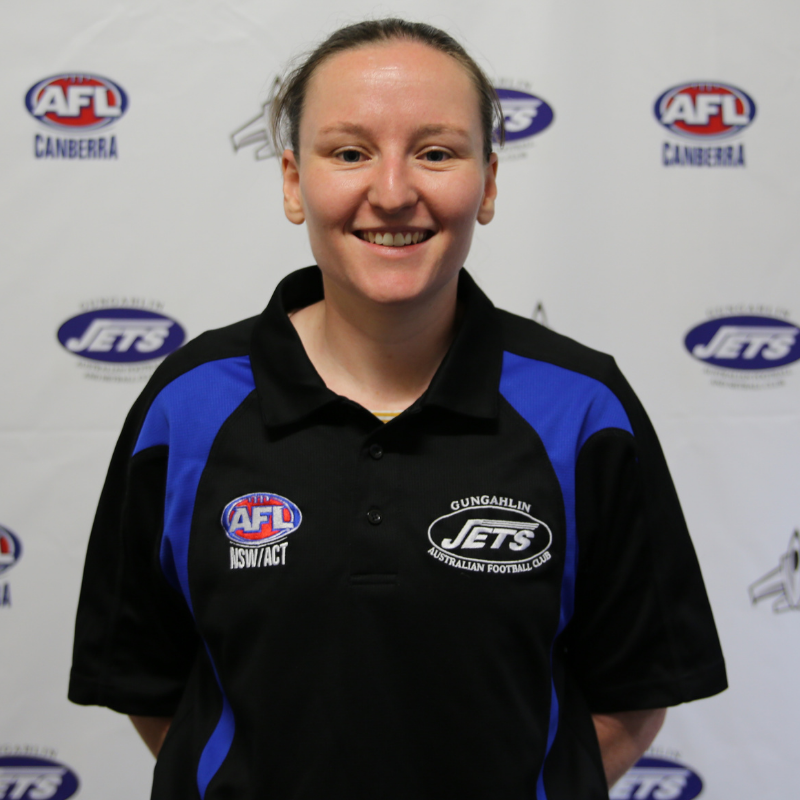 Favourite Team
Freemantle (but she really goes for footy in general)
Favourite Quote   
Work smarter not harder
A Jet in the Hangar is safe but that's not what Jets are built for
---
Erin joined the Jets in 2015 and plays her 7th season for the Jets in 2022. She chose to play AFL because she has always loves footy and wanted to play but the motivation only came when she moved to Canberra. At the time, Erin needed something to do that wasn't work and a way to meet people who weren't middle-aged, male or into gaming. As a self-proclaimed individual who isn't good at socialising or making friends, footy became a great equaliser for her as she is most comfortable with a footy in hand or a game on TV.
Erin initially played for the Jets because of the quality of football the women were producing and the success they were experiencing. Now, she plays for the Jets because of the family feel around the club and the ability to contribute to the next generation of footy players.
Outside of AFL, Erin enjoys netball, cooking, watching the same two shows over and over again and completing her commitment to a long-term DIY guitar project. The kit guitar, which should have taken a couple of weeks to complete is now six years in and estimated to take another six years at her current pace!
---
Sponsored by Hadley Green Investment Group
The Hadley Green Investment Group has established itself as a leading INDEPENDENT provider of quality property finds management products to its network of private, corporate and SMSF investor clients.  Hadley Green understands the importance of performance, hence a focus on investments in quality Australian commercial property, that provides strong income returns and capital gain potential.  Its senior management team has almost 100 years combined experience in the analysis of, investment in and management of Australian commercial property.  With Hadley Green, your investment is in safe hands.